Back when Go Transit and the Regional Government of Niagara were just starting out (1969), Johnny Cash wrote and performed the song "I've Got A Thing About Trains". Full of nostalgia, Johnny Cash mournfully finished the song "…….. Train train train, I've got a thing about trains".
Sounds like a repetitive refrain from a few present-day Niagara area mayors and councillors. Letting the nostalgia and romance of trains be a "one-note-whistle". Train Train Train is their "focussed demand".
The way forward is "GO Service, GO service Go Service."
Don't get railroaded by a self-imposed "Romance of Rail."
The greatest number of Niagara people and communities will be better served by a transit service not solely focussed on the iron rail.
An enhanced all-day GO Service for all Niagara people with frequent trips includes:
Express buses using the forthcoming High Occupancy Vehicle lanes on the QEW between Stoney Creek and St. Catharines. ( Some non-rush-hour Express bus trips will connect directly to the forthcoming electrified rail section starting in Burlington)
A staged approach strategy. Use all means to design a GO transit SERVICE.
A recognition that the two commuter trains each morning and evening will never replace the adaptability and nimbleness of connecting and through bus service.
Transit hubs — which are glowingly described in the Region's GO train plan—are often better located at a near-highway location with a GO terminal served also by connecting municipal bus service.
Here are some ideas for a future informed by a staged plan for GO SERVICE:
Go Figure!!!!!
Here in Niagara for a long time we have had "Two Way" "All Day" Hourly GO Transit service. Buses from the Niagara Peninsula connect to Burlington Trains.
On some Friday trips there are express bus services making the trip from St. Catharines to Burlington in forty-five minutes. Much faster than a speeding train. An express bus links Burlington with the Park and Ride lot in Niagara Falls in fifty-five minutes. The weekend tourist trains take one hour and twenty minutes for that trip.
The new GO Transit station in Hamilton east, with rail link to downtown Hamilton opens next year at Confederation in Hamilton/Stoney Creek.
Let's insist that GO Transit invest in a frequent Go Express Bus Service to and from Niagara hubs to the new Confederation station in east Hamilton.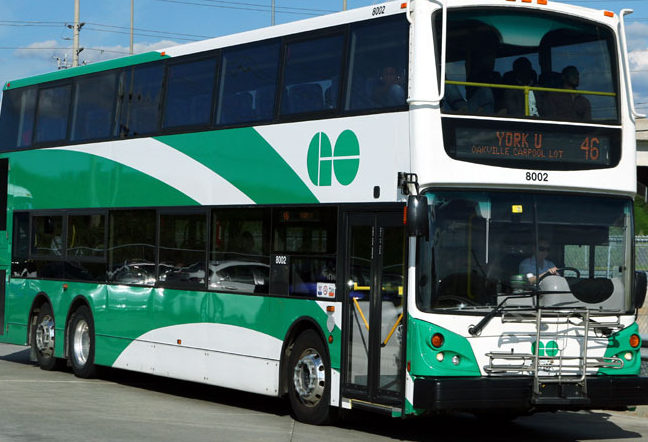 The next move in the staged approach is for Niagara people to ask GO to speed-up the building of a full transit hub at Casablanca beside the QEW highway west of Grimsby. With that in place the full range of Niagara people from all parts of the region at all times of day ; students, business commuters, travellers, tourists, sport and event fans, even regional politicians, can all say "a full and frequent complement of GO SERVICES has arrived in Niagara."
Even with those improvements the number of trains into Niagara will not be frequent nor is it likely they would be electrified beyond Hamilton. We will continue to rely on connecting buses to Burlington for many scheduled trips.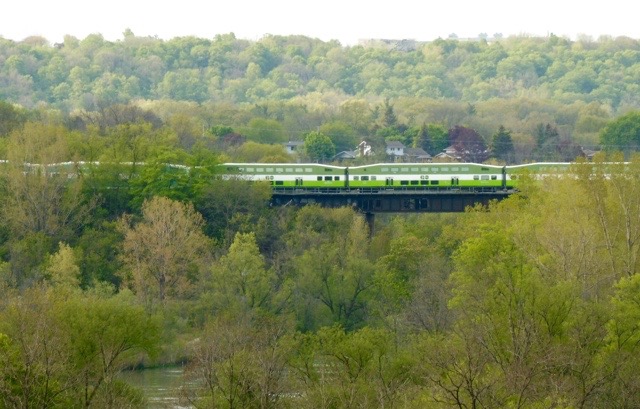 There are problems for frequent trains beyond Grimsby eastbound to St Catharines and beyond to Niagara Falls. Consider ridership, rail congestion and cost or indeed impossibility of ramping up the number of train trips.
GO figure!!!!!
About 16 km (10 miles) of track between Grimsby and St Catharines is one track.
A second track was taken out because all three trestle bridges in the section cannot support two fast-moving trains at the same time and it is better to highball one train at a time through that section. It was found that stopping and starting to stagger through the area of trestles was a bottleneck and the best way to solve it was one-track and direct and higher speed. Despite a 2011 environmental assessment suggestion to add the second track I think modern-day despatching on the existing single track is better than a double track requiring a "slow-order" or even a stop-and-go for all trains because of the trestle bridges in the 16 km stretch.
There are capacity limitations in the triangle of rail junctions in Hamilton near the Royal Botanical Gardens and the boundary with Burlington. Other route needs will likely limit Niagara train frequency in the near and intermediate future.
GO figure!!!!!!
Commuter service frequency and speed has major problems on the 18km section between St. Catharines and Niagara Falls City Centre.
The number of train trips crossing the Welland Canal into Niagara Falls City is limited.
The Seaway despatch of ships is a finely tuned system that could never operate ship priorities and give too many trains right of way. The negotiated return train trips morning and evening are about all that could be expected on a scheduled basis.
Beyond the Welland Canal, approaching the stop at Niagara Falls City station requires trains to proceed with a "slow-order" of ten miles an hour for much of the way because of two long curves.
It takes a train 25 minutes to travel between St Catharines and Niagara Falls. That's an average speed of 45km an hour on the 18km section.
For comparison, a present day scheduled Express bus trip moves from Niagara Falls to Burlington in just under an hour. The scheduled tourist weekend train takes one hour and twenty minutes for the Burlington-Niagara Falls trip.
The 2011 study to select a "preferred" solution for Niagara Region considered several services: bus, rail, and modern day demand management.  A GO transit SYSTEM cannot afford to overlook any of the itemized solutions; express bus, traffic demand management and rail. A total system rather than a limited emphasis on rail would by the "preferred solution".
The choices , as considered by the 2011 environmental assessment study are reprinted below:
1  "New or Expanded Bus Service: This alternative would involve the expansion of bus service on existing major arterial roadways and highways. The expanded service would be primarily an express service to enable the most efficient travel time for inter-regional commuter traffic. In order to improve the frequency and reliability of bus services, transit signal priority, rush-hour reserved bus lanes or dedicated bus-only roadways / transit-ways may be considered. Additional infrastructure would be required to support the increased number of buses such as new bus terminals and maintenance and storage facilities.
2  Transportation Demand Management: This alternative would involve the implementation of strategies or policies to encourage commuters to use alternatives to traveling alone (i.e., education through marketing). Some of these strategies could include High Occupancy Vehicle (HOV) and Reserved Bus Lanes (RBL), area traffic/transit signal priority, parking management, congestion pricing, ridesharing, land use density increases and telecommuting.
3  New or Expanded Commuter Rail Service: This alternative would involve the expansion of rail service from Hamilton to Niagara Falls. This alternative would include construction of new commuter rail stations, corridor rail line improvements, and commuter train layover site to provide required train service to the Niagara Region. Current GO commuter rail service would be expanded within the study area, providing opportunities for increased ridership to/from the Greater Toronto Area (GTA) and within the expanded corridor ".
The people of Niagara and our many visitors will be best served by a melding of all three solutions.
Let's all sing a rework of the Johnny Cash lyrics: "Trains, Buses and Traffic Systems Management."
Don Alexander served on Niagara Regional Council and its planning committee for two terms in the 1970s. He was chair of the Transportation Committee which, lacking council interest, met rarely if at all.
In the mid 1960s Don was the Public and Government Relations spokesperson for the Seaway and was fortunate to be seconded to the Welland Canal Modernization Project which had a systems approach to designing a finely tuned despatch system and accompanying improvements that eliminated week-long delays in the canal. That project and its systems approach was led by Josef Kates of Toronto who later was a founding partner of Kates Peat Marwick , the firm that went on to become KPMG.
Don was raised in a "Railway Family" and through his father was familiar with capital projects and strategies for the pent up backlogs of infrastructure improvements resulting from the Depression coupled with World War II . He also saw the many aspects of the changeover from steam to diesel.   In the early 1950s he worked for two summers as a student employee in the Bridge and Building Department of the Canadian National Railway.
Don has "A Thing About Trains" but does not let nostalgia warp design of a good transportation system.